PRODUCT DEVELOPMENT STORY 03
'kiwami—Japanese for "the ultimate"—is a branded series of spray guns produced exclusively for the automotive refinishing market. It was branded in 2019. The series dates its birth back to 2009.
01.BENEFIT

Maximizes the Performance of the Paint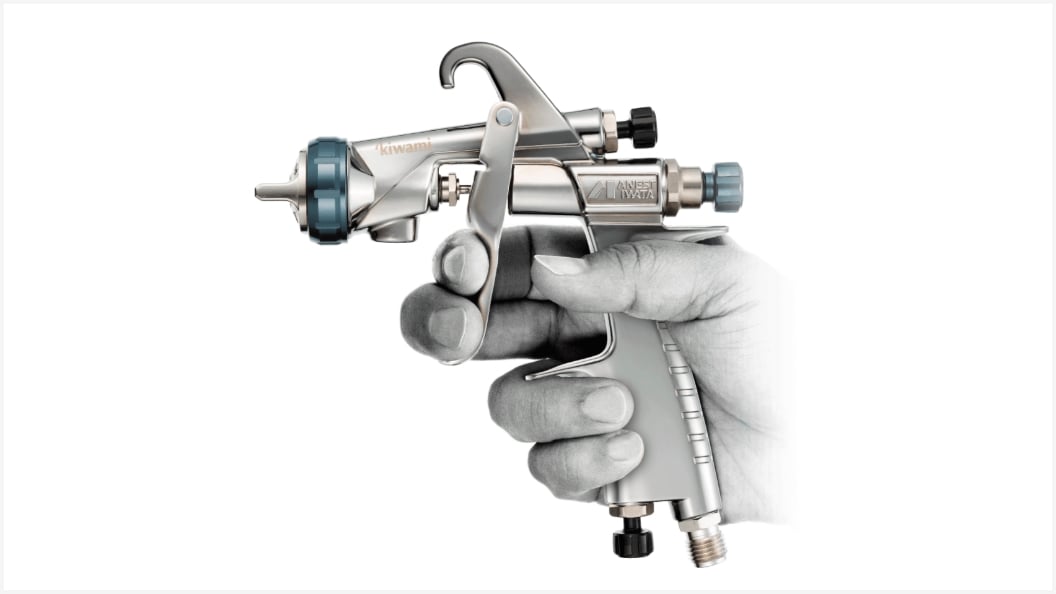 We believe that the most important function of a spray gun used for automotive refinishing is to quickly adapt to the changes in paints and draw out the full potential of the paint itself, in order to make coating easy and achieve beautiful results. Our spray gun must be the "ultimate tool" of choice for our customers. It has been 14 years since the launch of the "Bisho" series of spray guns for two-pack paints, and ten years since the launch of the 'kiwami series of spray guns for one-pack, high-solid paints. And now, environmental considerations, worker safety, simplification of coating work, and quality improvement are required as well. We will continue to upgrade our 'kiwami series even further to make it the "ultimate tool" for our customers.
02.HISTORY

The Culmination of Our Atomization Technology, Cultivated Since 1927

An Urgent Need for a New Type of Automotive Refinishing Spray Gun
In the past, spray guns for automotive refinishing were limited to the Bisho series dedicated to two-pack base coating, but one-pack base coats were beginning to gain popularity. Since the one-pack base coat, which was more practical and environmentally friendly, had completely different properties from the two-pack type, it could not be sprayed well with existing spray guns, and there was an urgent need to develop something new.
Adapting to Evolving Paints and Installing the Latest Atomization Technology
An important theme in the development of the 'kiwami series was "to be constant," but "to evolve" at the same time. We embarked on its development with the intention to reconcile the two seemingly opposing concepts in a single spray gun. In other words, we wanted it to feel familiar to our customers who had already been using our spray guns. And at the same time, we wanted to adapt to rapidly evolving paints, and equip the gun with the latest atomization technology. It was our mission to bring these two elements to fruition.
Birth of a Spray Gun Brand Named 'kiwami
'kiwami was named as such, reflecting the thought that "a spray gun must be the ultimate tool for a spray painter." In 2019, we updated the W models to the WIDER models, and we decided to take the opportunity to spin 'kiwami off as an independent brand, in order to develop it further.
Seeking the Capacity to Render Difficult Paints Easy to Work With
Recently, some passenger cars are attracting attention for their deep, beautiful colors. The paint colors used for such cars are often difficult to work with, and cannot be applied easily, necessitating tools that enable it to be handled with ease. Such types of paint will only grow more common in the future.
In order to detect paint trends quickly and create spray guns that are optimal for each type, we continue to collaborate closely with paint manufacturers in order to make better products that incorporate customer needs.

03.MESSAGE

Development Fueled by Our Customers and Belief in the Product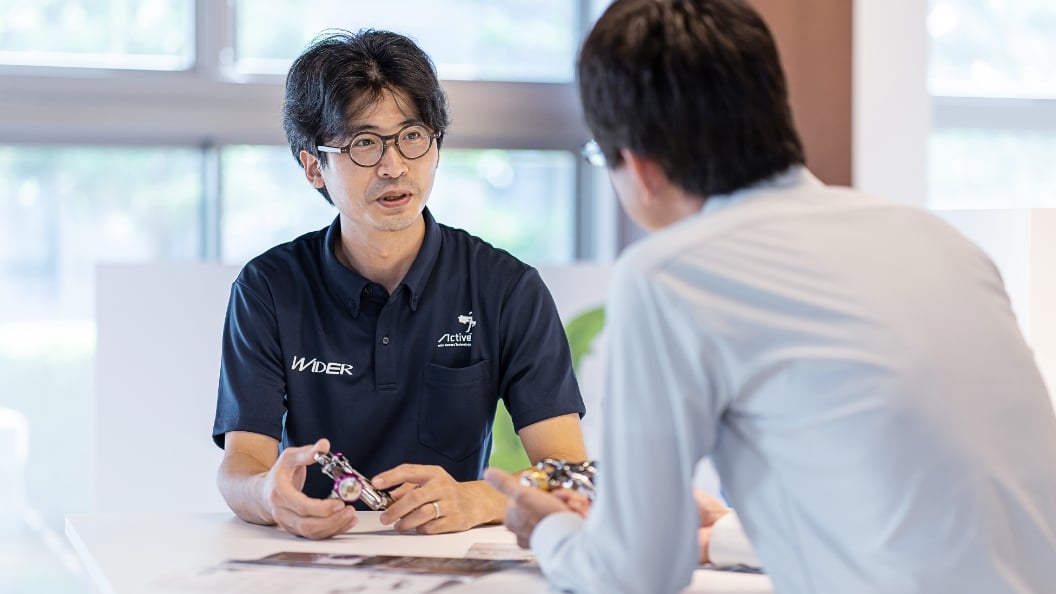 What is important in creating a new model is "thinking from the customer's point of view," as laid out in ANEST IWATA's management philosophy. At our company, a paint technician who was formerly in charge of coating at a sheet metal coating factory is responsible for marketing, and this technician identifies issues and makes product development proposals from the customer's perspective based on client visits. Then, our development team gives shape to these demands regarding the product and develops new spray guns.
This time, the development team created prototypes and ran them through numerous trials, and fine-tuned the model so that it could maximize the performance of the paints. The models that passed the subsequent stringent quality tests have come to constitute the "New 'kiwami." Our determination to "offer a good product to customers" has been the driving force behind everything.
To be honest, we as spray gun developers are always expecting to hear the words, "This can only be painted with a spray gun from ANEST IWATA." We believe that the most important thing is to quickly adapt to the changes in paints and draw out the full potential of the paint itself, in order to make coating easy and achieve beautiful results. In this, we will continue to aim for "the ultimate tool."