PRODUCT DEVELOPMENT STORY 02
Our main offerings during the 1950s consisted of Type S (small) spray guns and Type B (large) spray guns, but we launched the WIDER brand with the aim of reinforcing product development. WIDER was named as such after some of the most important aspects for spray guns—the ability to produce a "wide array of patterns" and the versatility to be "suitable for a wide variety of areas and markets"—as well as our wish for the product to "spread widely throughout the world."
01.BENEFIT

Produces Reliable and Smooth Coats, the Fundamental Requirement of Spray Guns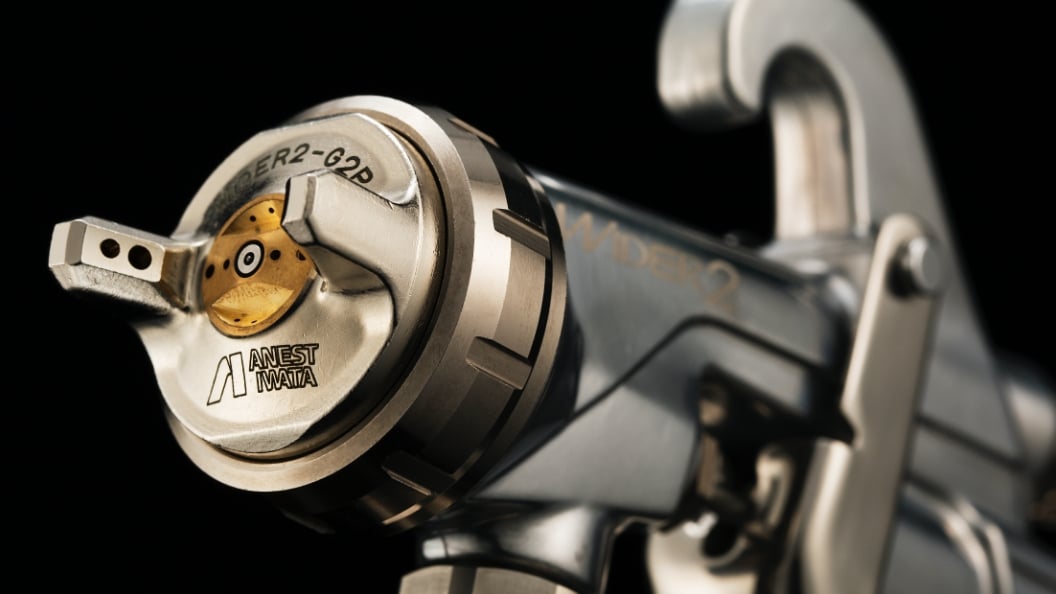 WIDER was born in 1957, and was incorporated with two features that made these spray guns well suited to that era. One is ergonomics. The gun is designed to prevent fatigue and allow ease of operation. The other is offering a high-quality coated surface with the latest atomization technology of that time. We provide spray guns that are easy for users to apply paint with, and that produces beautiful workmanship.
02.HISTORY

A Masterpiece Beloved from Its Birth up to the Present Day

Increased Demand for Spray Guns Due to Rapid Economic Growth
In 1954, less than ten years after the war ended, the era of rapid economic growth began in earnest. The booming Japanese domestic industry led to the sophistication of the industrial structure in many areas, and the massive wave engulfed the coating industry as well. As automobiles, train cars, ships, and buildings were built one after another, the amount of paint used increased accordingly, year by year. And with the rise in the volume of coating work, the demand for spray guns significantly increased as well.
Developing a New, High-Performance Spray Gun with a Theoretical Understanding of Its Mechanism
Against such a backdrop, in order to start full-scale development of new products, the company set up a research and development laboratory for the first time at its new factory in Tsunashima, which at that time was equipped with facilities that enabled integrated production. At the time of the laboratory's opening, there was no scientific way to measure the size of atomized particles efficiently, and even in the US and Europe, manufacturers were relying on experience. However, we thought that a more efficient spray gun could be developed by trying to elucidate its mechanism theoretically.
About Four Years Later, the Ideal Instrument is Born Based on Science
From then on, we embarked on our research regarding the basic feature of a spray gun, namely, how it atomizes paint. And after about four years thoroughly re-examining the shape and dimensions of the tip of the spray gun (the fluid nozzle, the central and corner air holes in the cap, etc.), we were able to theoretically understand its mechanism. The history of this best-selling instrument that has proved popular from its birth up to the present began at this moment, and it has evolved in tune with the times ever since.
From WIDER to W: In Pursuit of Further Evolution
A new project was launched to develop environmentally friendly products for the 21st century. We reviewed the structural design starting from the core, with the goal of making further inroads into the global market. Our thoughts behind the name "WIDER" were distilled into the letter "W," in order to offer a product we could be proud of to coating professionals equipped with an array of new functions.

03.MESSAGE

From W, Back to WIDER Again: Continuing to Evolve the "W Series," as Determined and Dedicated as Ever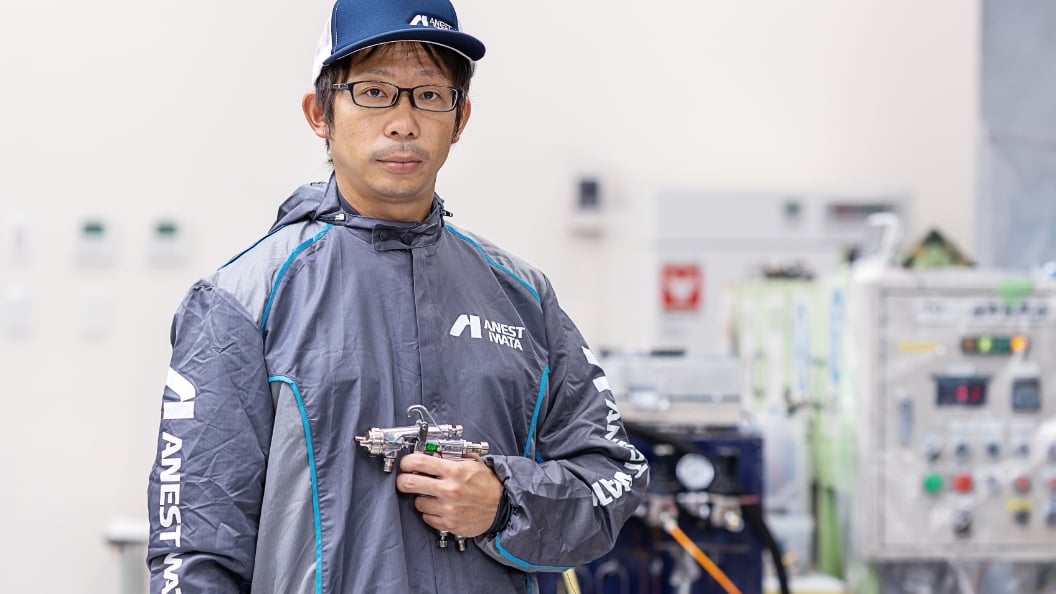 To be a development-oriented company that is consistently vibrant and equipped with innovative technologies—this is our corporate brand's promise. It is our mission to revitalize the market as a leading manufacturer of coating equipment. This year, in which we celebrate the 93rd anniversary of our founding, we have made another step forward in new product development. We improved and refined the W series, which has come to be recognized the world over as a general-purpose spray gun, even further. With this, we aim to further promote the ANEST IWATA brand, and reach ever higher toward becoming a company with a 100-year history.
First, we analyzed and reviewed all the components in order to make a spray gun that is easy for users to handle, a spray gun of uniform and stable quality, that could be produced even more efficiently. During that process, the decision to renounce compatibility to make improvements required courage. The WIDER 1 and WIDER 2 models have evolved into versatile spray guns suitable for any market, due to the shape of their grip and trigger that allows them to be held in any way, and their excellent weight balance.
One aspect we took pains to perfect was stabilizing the atomization by improving the air valve seat. Our painstaking efforts to improve usability across all products show in the details, such as the finely tuned shape of the trigger to make it more operable, and the provision of guides at the tips of various screw parts. We have packed the WIDER 1 and WIDER 2 spray guns with such small but considerate details, with the hope of hearing our customers say, "It's much easier to use!" When you hold it in your hand, you will surely feel our determination and dedication flowing from the tool.