Promotion of Health and Productivity Management
ANEST IWATA's Health and Productivity Management
Promotion of Health Management
We promote health management with the aim of becoming the "Top Excellent Company in the Machinery Sector. We believe that the key to a company's development is the improvement of every employees' productivity and activation of organization, and the foundation for this is the health of our employees.
ANEST IWATA aims to create a corporate culture and environment that encourages employees to take on the challenge of maintaining and improving their health, so that all employees will be health-conscious, smiling, and shining with vitality. By improving health awareness, self-care becomes a habit and individual performance improves. We also believe that employees' self care will affect their families as well, and that by continuing to take care of themselves and their health even after retirement, they will extend their healthy lifespan and contribute to their local communities.
For the further development of ANEST IWATA, We will keep challenging on various initiatives to further enhance our health management activities and strive to help our employees and their families "shine with a smile and vigor," aiming for the further development of ANEST IWATA.
Message from the Chief Health Officer (CHO) in Charge of Health and Productivity Management
The "ANEST" in our company name, ANEST IWATA, stands for our belief in "Active with Newest Technology = aiming to be a development-oriented company that is consistently vibrant and equipped with innovative technologies." And in order to achieve this, I believe it is essential to provide the workplace environment and proper knowledge so that all our employees in the Group can work in good spirits, with a smile on their faces. As the CHO (Chief Health Officer), I want all employees of the Group to recognize how important the health matters are. We, as a company, will together promote activities that help maintain and improve employee health. And by promoting the happiness not only of our employees but also that of their families, we aim to become the "top White company in the machinery industry."
Shinichi Fukase, Representative Director, President, CEO and CHO
Health and Productivity Management Declaration
As a development-oriented company that is consistently vibrant and equipped with innovative technologies, ANEST IWATA will not forget the founding spirit reflected in its corporate motto, "Makoto no Kokoro" (Trustworthy & Sincere), and all of us will strive to help create a safe, secure, and prosperous society capable of sustained growth. The most important factor in maintaining a vibrant spirit and creating innovative technologies is the health of our employees and their families.
The state of health we aim for is one in which "everyone shines with a smile on their faces." To achieve this, we will implement initiatives related to maintaining and improving health, create a culture and an environment in which all employees can easily participate in such initiatives, and do all we can so that our employees and their families can "shine with a smile on their faces." Through our health and productivity management, our employees and their families will shine with a smile on their faces, and we will strive not only to achieve growth as a company but to contribute to the development of regional communities and the machinery industry as well.
Health Promotion System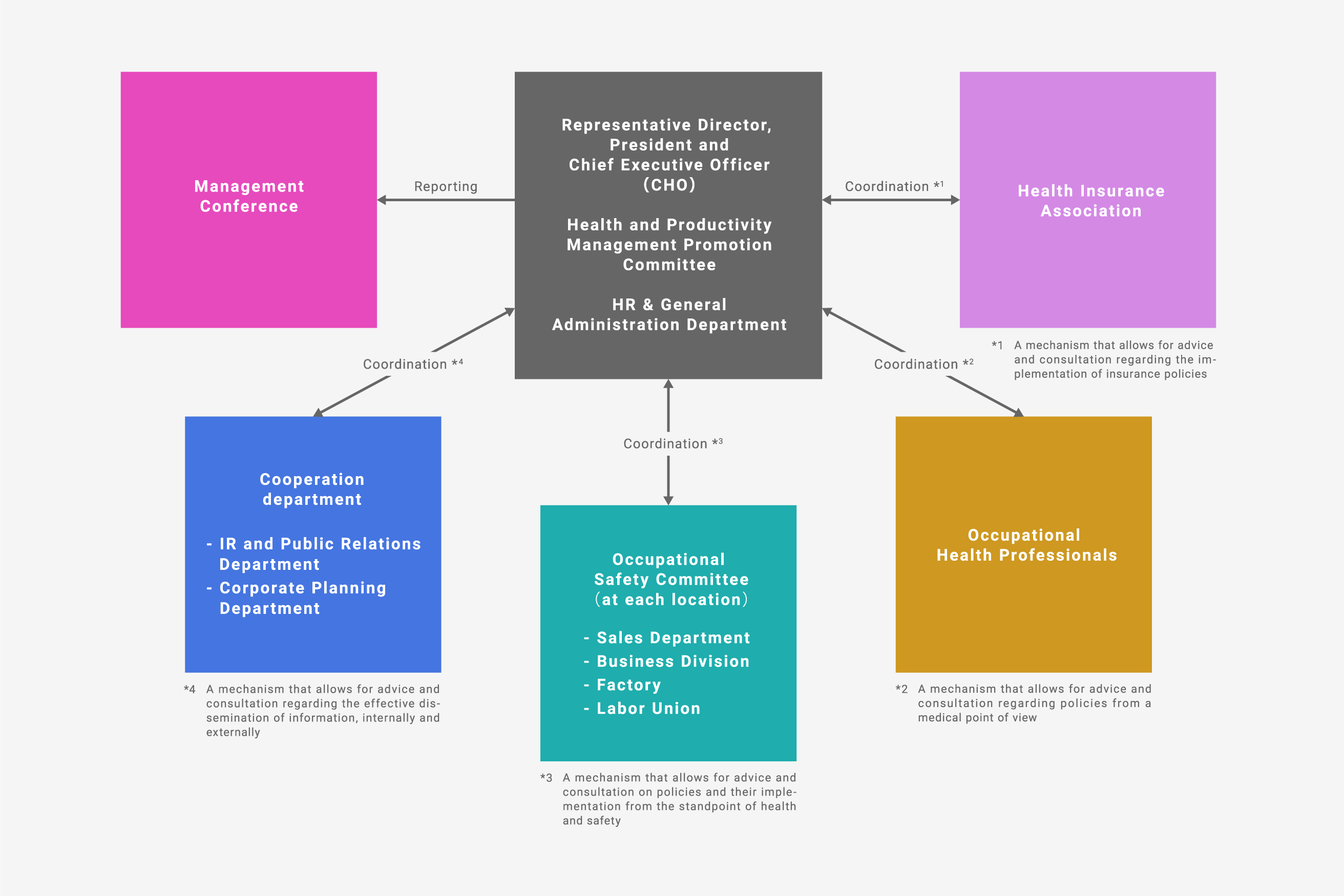 The Representative Director, President and CEO will assume the role of Chief Health Officer (CHO) responsible for Health and Productivity Management, and the Health and Productivity Management Promotion Committee and all related departments will work together to implement Health and Productivity Management.
Indicators of Health Management
Major communication activities (company-wide activities)
ONE ANEST IWATA AWARD (FY2017-FY2019):

Infiltrate workplace culture through new collaborative work that replaces small-group and proposal activities.
Understand and act on management philosophy and vision through these activities.

WAKUWAKU Research Center (FY2019):

Hold events inviting employees' families and local residents.
Invigorate internal communication by bringing all employees together to work on events from the preparation stage.

Online meetings (FY2020):

Hold online lunch meetings with remote workers during COVID-19 situation. (company pays for the meetings, including the cost of family meals)

Internal culture reform P/J (FY2020-FY2021):

Increase in cross-functional communication through workplace reform P/J by young employees.

Walking events (FY2021-FY2023):

Hold company-wide walking events to revitalize communication across regions. (conducted 4 times)
Participation was in the form of group competition to encourage internal workplace communication while developing exercise habits.
85.4% of the participants were satisfied in the post-event questionnaire, so the event was a great success.

Opening of health booths (FY2022):

Opened a "health booth" at the BLUE LINK FES. Anest Iwata Racing SUPER GT event.
Held a grip strength measurement contest and a skin age measurement event, inviting local residents, motor sport fans, employees' families, etc. to the events.
Contribute to the local community by inviting local residents and employees' family members, and activate communication with them.
Employee surveys have been conducted since FY2020 to verify the effectiveness of health management based on the strategic map. Although the results show changes over a short period of three years, there have been improvements in indicators related to the initiatives, awareness/behavior changes, and final target indicators, and we believe that the implementation of health management has had a positive impact on improving health issues and corporate issues. We believe that it is important to continue implementing health management and verifying its effectiveness in the future.
Specific Programs and Initiatives
Sponsorship of Sporting Events
We sponsor various events such as cycling competitions and marathons held on the "ANEST IWATA Turnpike Hakone," a sightseeing toll road in Hakone.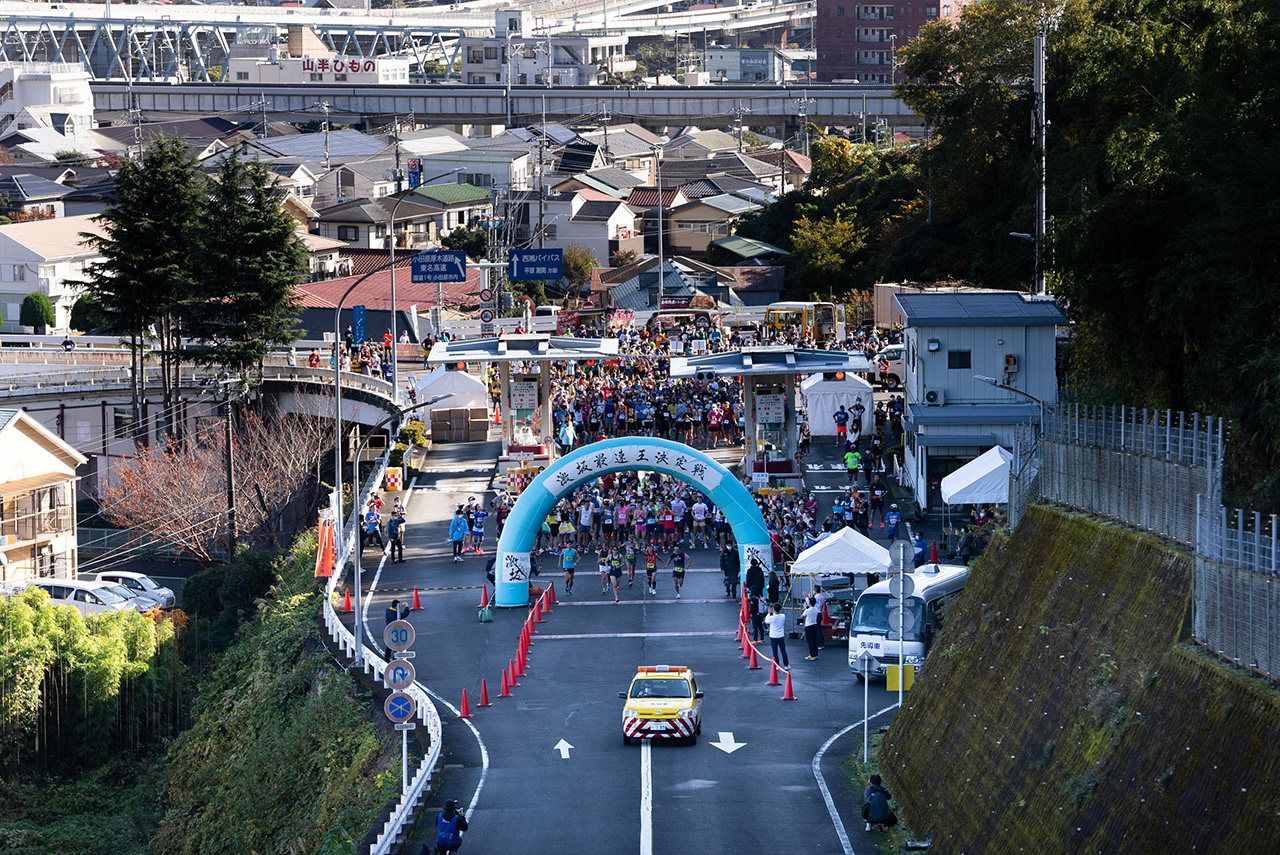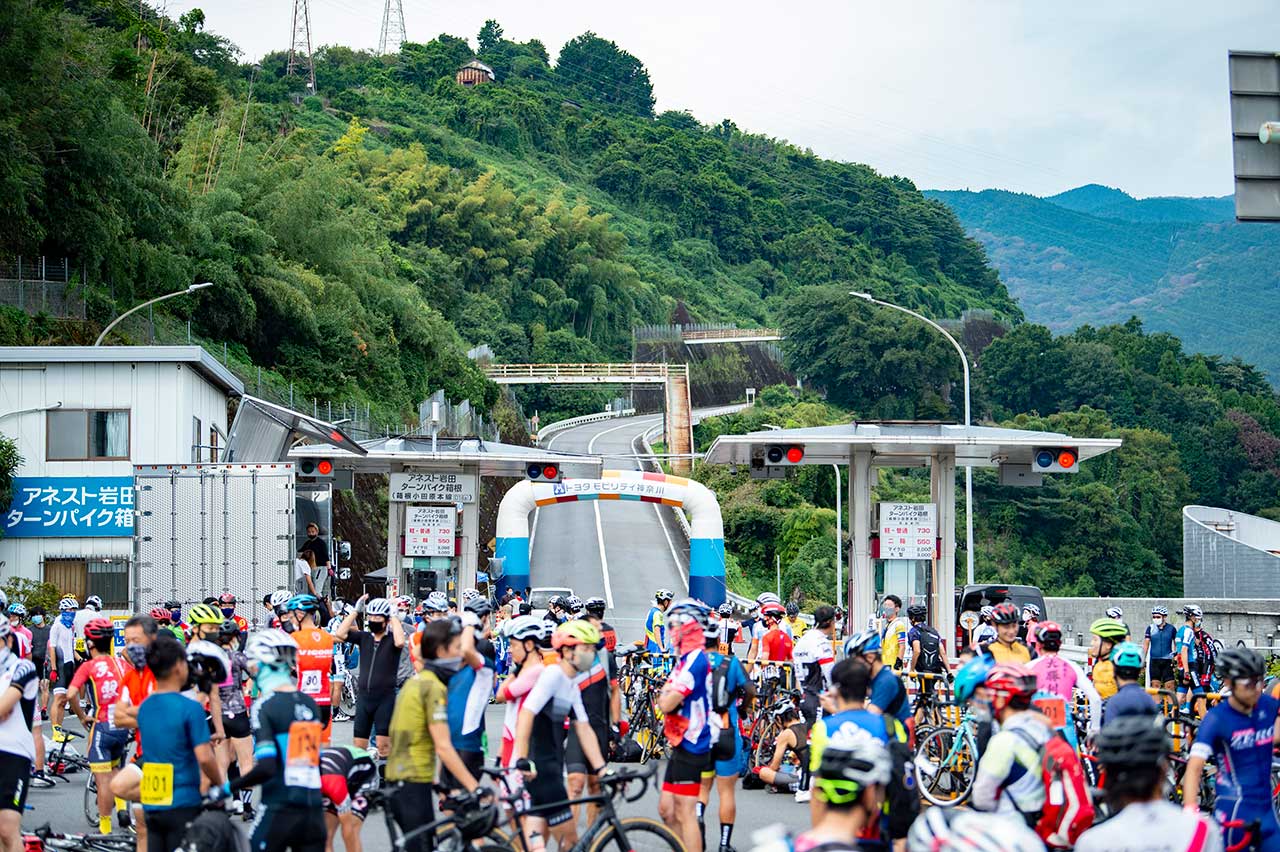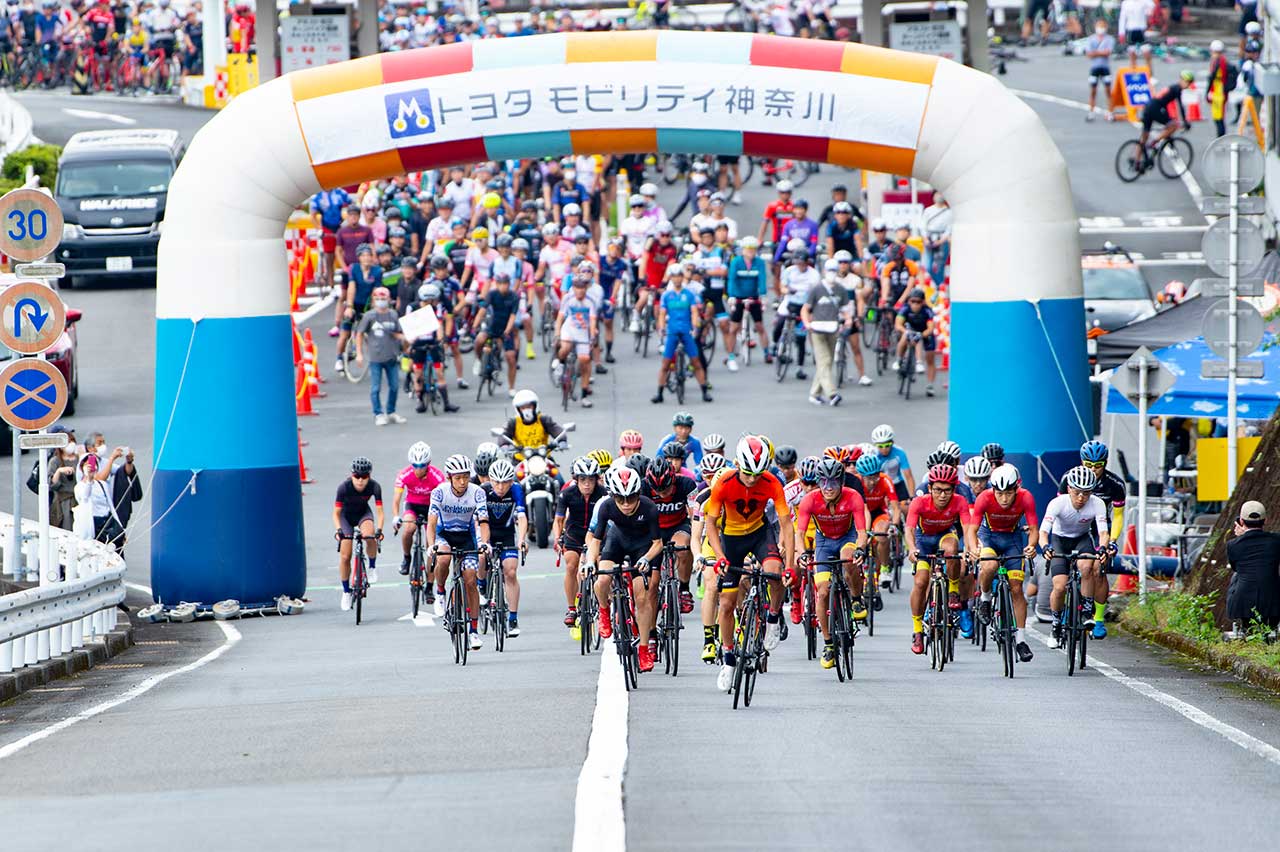 Recognized as a SPORTS YELL CAMPANY 2023
In February 2023, we were recognized as a "SPORTS YELL COMPANY 2023". (for two consecutive years)
SPORTS YELL COMPANY:

Japan Sports Agency (Ministry of Education, Culture, Sports, Science and Technology) recognizes companies that are making active efforts to implement sports to promote the health of their employees as "Sports Yell Companies". In recognition of our company's efforts in exercise (sports), which is one of our health management initiatives, we have been recognized as a "SPORTS YELL Company 2023" following the previous year.
Joining the Sport in Life Consortium
We are a member of the Sport in Life Consortium, an initiative of the Japan Sports Agency to achieve SDG Goal 3 "GOOD HEALTH AND WELL-BEING" through sports.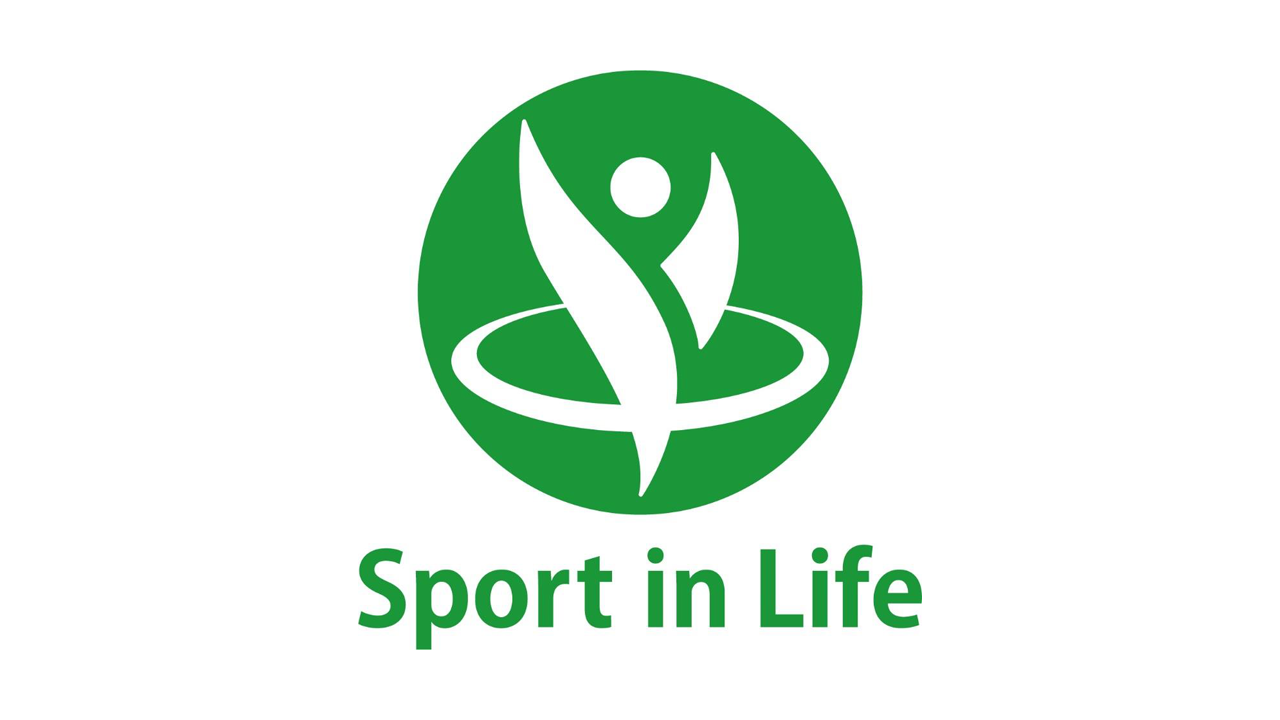 Joint Efforts with Business Partners
Companies that have been certified as a Health & Productivity Stock Selection also play the role of "ambassadors" to promote the spread and expansion of health management. As a company certified as one of the 2022 Health & Productivity Stock Selection, we are taking a variety of initiatives.
Joint efforts with our business partner "Maruyama Mfg. Co., Inc."
Provision of proven know-how on health management practices
Even if you understand the health management in theory, there are various barriers and conflicts when actually putting it into practice in the workplace. We have had similar difficulties in promoting health management at our company.
We offer our proven promotion know-how and measures obtained through the process of acquiring the Health & Productivity Management Outstanding Organizations-White 500.
Provision of posters, stair calorie display plates, and other promotional materials
Human resources and general affairs departments, which play a central role in the health management promotion, will be faced with the increased workload.
To reduce their workload to produce posters, we provide them with materials produced and used by our company.
Joint Health Management Activities
A joint walking event was held in November 2022.
Joint Community Event Initiatives
We held "BLUE LINK FES. 2023" in conjunction with the announcement of the team structure for the "SUPER GT GT300 Class," and a health booth "Health Check Area" was exhibited at the event venue to promote the health of employees, their families, and customers. At the "Health Check Area," we held a grip strength measurement contest and a skin age measurement event, where visitors could easily measure their own health level.
Jointly with our business partners engaged in the fitness business, we enlivened the entire event with exhibits of "health" themes, and provided an opportunity for visitors to promote their health.